OUR COMPANY

BRIEF HISTORY
APIL is a pioneer company in the field of Photography. It has been operating in India Since 1946. It has been marketing Agfa India Limited photographic products in 50's and 60's.

In 1966, APIL and Agfa India Limited merged to form Agfa-Gevaert India Limited and marketed a wide range of photographic, graphic art & industrial x-ray products. It also launched quality products for seismographic studies.

In 1992, the company changed its name to APIL. Over the next many years, APIL represented and marketed products manufactured by Ilford, Pentax, Kodak, Kodak Media Products Limited, covering categories as wide as consumer film, Photographic Paper and Chemicals, Thermal Printers & Kiosks, Media, Arial Film, digital cameras and digital media products.

In 2011, Kodak Media Products Limited appointed APIL as distributors for CD, DVD, and other Memory Products for India, Middle East and Africa.

APIL was appointed by Kodak India Private Limited as country distributor for Kodak Films which involved importing, warehousing and distributing the products through a channel of dedicated distributors. APIL was also the distributor for West and South Region for Kodak Paper and Chemistry.

Other Business interests include Building residential apartments and Warehouses.

CURRENT INFRASTRUCTURE
The company has Excise and Sales Tax Registered offices at 12 Locations all over India, namely, Mumbai (HO), Ahmedabad, Chennai, Bangalore, Hyderabad, Cochin, Delhi, Jaipur, Lucknow, Kolkata, Guwahati, Patna.

APIL at each of these locations has warehouses upto usable area of 6,500 Sq. ft. Few locations also have dedicated temperature controlled areas.

APIL has its own team of direct employees managing the warehousing and distribution operations.



RECOGNITION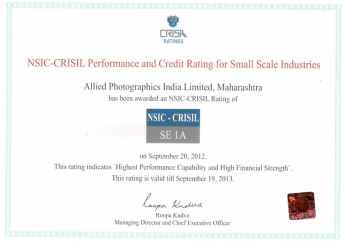 CRISIL RATING
The company is financially strong and has been rated as SE A1, by CRISIL.

This indicates 'Highest Performance Capability and High Financial Strength' of the company.
---